A delightfully warm spring in many parts of the Western U.S. had many folks brushing off their summer clothing early. While this is exciting for all who love the outdoors, public spaces like parks and beaches may be overcrowded. What better time to focus on ways to maximize the space you have in your own home? There's no one ideal way to set up your deck, but we've put together a few of our favorite ideas to help inspire your next redesign.
Multi-level Decks
Especially if your square footage is limited, tiering your deck into multiple levels is a great way to incorporate extra outdoor space into your home.
By separating your deck into multiple levels, even slightly, you can create a cozy sense of separation between spaces.
Give yourself options for privacy. Depending on your property, the base level of your deck may be below your fence-line. If you have a view you'd like to enjoy with your barbecue, consider a second tier.
Built-in Seating
A simple way to save space and hassle is to build in your seating spaces during your deck's construction.
It's important to consider what you will predominantly be doing on your deck. Lounging while reading? A corner bench is a great fit and can be outfitted comfortably. Potlucks and cookouts? Consider higher benches or fences with wide tops for easy plate placement.
Consider your environment. If your deck will weather rain, sand, or wind consistently, don't write off surfaces like brick and concrete, which can be framed as appealingly as wood or other stone.
Custom Lighting
As the sun fades, your deck's utility can shine or fade with it. Including discreet lighting within the construction of your deck is a small step that can pay huge dividends.
Increasingly popular low-voltage systems have made a well-lit backyard and deck drastically more affordable.
Depending on your location, solar powered lighting is a worthwhile investment that can help accentuate your stairs, fences, and other outdoor decorations.
This post originally appeared on the Windermere.com Blog. 
Posted on June 15, 2018 at 10:35 pm
Keith Childress
Category:
For Your Home
Tagged

bbq, curb appeal, deck, fire pit, kirkland, outdoor living, real estate, realtor, redesign, seattle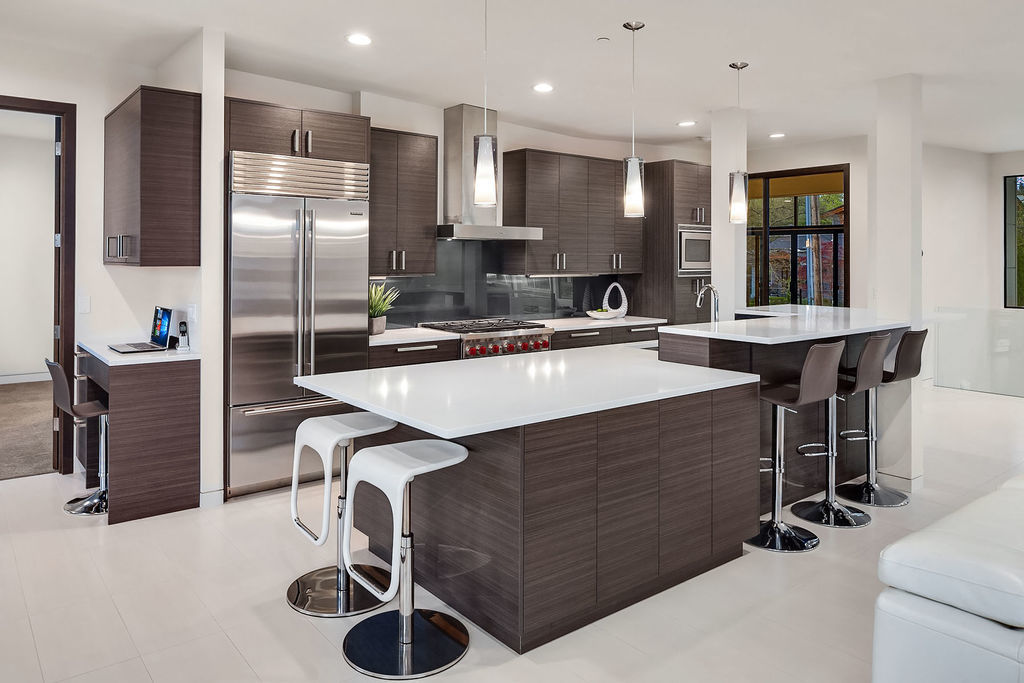 Sleek design, open floor plans, and great natural lighting are all appealing characteristics of modern architecture. Over the years, modern design concepts in home building have become more popular, as is the resurgence of interest in modern real estate. More companies, like 360 modern, are specializing in modern properties. Modern homes vary greatly in style; however, they have some unifying qualities that distinguish them from other properties built over the last 60 years. Here are some characteristics often found in modern homes:
Clean geometric lines: The core of modernist values is the simplification of form. Modernist homes have a very 'linear' feel with straight lines and exposed building materials. Furnishings and adornment reflect this value, incorporating vibrant, geometric and abstract designs.
Modern materials: Large windows are abundant in modern architecture, allowing light to fill and expand the interior space, bringing the natural world indoors. Generally, all exposed building materials are kept close to their natural state, including exposed wood beams, poured concrete floors or countertops, stone walls and stainless steel.
Modern homes are well suited for technological and green upgrades, as well including eco-friendly building materials and energy efficient practices. Flat roofs accommodate solar power. Energy efficient appliances work with the aesthetics of modern homes. Modernist landscaping need not require water-thirsty lawns but instead can reflect local flora.
Post-and-beam structure: One classic element in modern architecture is the exposed wood posts and ceiling beams. This style of building has been around for thousands of years; however, modern homes really emphasize the structure, rather than hiding the bones behind drywall. In new modern homes, the post-and-beam structure can be made out of concrete, iron or other materials. The highly visible horizontal and vertical beams reinforce the clean geometric lines of the space.
Low-pitched gable or shed roof: One of the most differential characteristics of modern homes than more traditional home design is the shape of the roof. Classic modern homes on the west coast generally have a flat or low-pitched roof, highly influenced by architect Joseph Eichler. New urban homes also leverage rooftops for outdoor entertaining space.
Open floor plan: Modern design strives to "open" the space by eliminating enclosed rooms. For example opening the kitchen and dining room into an open living space, allowing the 'rooms' to flow into one another.
Large windows: Natural light and the incorporation of natural elements are important aspects of modern home design. Large, floor-to-ceiling windows illuminate the open space and highlight the natural landscape. Some new modern homes have adjusted the large windows to open, diminishing the barrier between the indoors and out.
Incorporation of outdoor elements: Frank Lloyd Wright, one of the pioneering modernist architects, incorporated the natural setting into his architecture, most famously with Falling Water. Outdoor elements are incorporated into modern architecture in many ways; through large windows, landscaped terraces, and patios, and through use of natural and organic materials in the building including stone walls, and more.
Minimalism: With open and connected modernist spaces, careful curation of furniture, adornments, and household objects is important to preserving the modernist aesthetic. Generally, modernist homes have art and furniture that reflects the clean geometric lines and the natural materials of the architecture, leaving less space for clutter. Minimalist philosophies of few household items that serve both form and function work well within this design and architectural style.
This post was originally published on the Windermere.com Blog.
Posted on June 4, 2018 at 4:42 pm
Keith Childress
Category:
For Your Home